Yuko Tabara Profile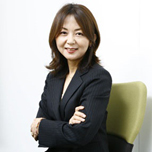 Yuko Tabara
President Basic Inc.
Director of Framework Promotion Association
Certified CMC by International Council of Management Consulting Institutes
Certified Master Management Consultant by All Japan Federation of Management Organizations
Born in 1960. Established Basic in 1998 after working as a sales trainer and management consultant for a
foreign staffing firm. Has helped numerous salespeople and companies around the nation dramatically
improve their performances. She enjoys the trust of all clients, from small business proprietors to executives
of companies listed on the First Section of the Tokyo Stock Exchange.

Qualifications and Affiliations
Representative director of Framework Promotion Association
Managing director of Tohoku Revival Co., Ltd.
Certified CMC by International Council of Management Consulting Institutes
Certified Master Management Consultant by All Japan Federation of Management Organizations
Member of Japan Society of Hospitality & Identity Systems
Member of Drucker Workshop
Instructor in Shukutoku University's 21st Century Leadership Program

A Message from the President
Enhancing sales capabilities is vital for all companies. We leverage the diverse capabilities we have
amassed in providing consulting services to 1,300 companies over the years to offer Framework
Marketing, which enables anyone to engage in efficient and effective sales, and build systems and
schemes to create databases of customer characteristics and sales activities. Human development
offerings include intensive mental balance training.
Company's Profile
Company
Basic Inc.
President and CEO
Yuko Tabara
Established
July 1998
Paid-in Capital
¥10 million (JPY)
Head office
Atami studio
Izuyama, Atami-shi, Shizuoka-ken, 413-0002 JAPAN
Hiroshima
satellite office
Koi-naka, Nishi-ku, Hiroshima-shi,
733-0813 JAPAN
Bank
Bank of Tokyo-Mitsubishi UFJ, Mizuho Bank, Ltd., Hiroshima Bank
Main customers
Sekisui House, Sekisui Heim, DAIWA HOUSE INDUSTRY,
PanaHome Corporation, Sumitomo Forestry, Mitsui Home,
OILES ECO CORPORATION, LIXIL, Panasonic, TOTO, Daikin Industries, Hitachi,
Mitsubishi Electric, YKKAP,
trading company, wholesale company, consulting firm, advertising agency,
Tokyo Electric Power, The Kansai Electric Power,
Chubu Electric Power, Hokkaido Electric Power, Tohoku Electric Power,
Hokuriku Electric Power,
The Chugoku Electric Power,
Shikoku Electric Power, Kyushu Electric Power, The Okinawa Electric Power,
and many others
Affiliated companie
Framework Promotion Association
KWrezidensukouzimachi401, 3-7-28, Kojimachi, Chiyoda-ku, Tokyo, 102-0083, Japan
Tel +81-3-6261-5325 office@framework.or.jp

philosophy of management
Vision
All of our people are dedicated to sharing the joy of performance and motivation with all the enterprises we serve.
Mission
We transform perspectives and ideas to generate an infinite of possibilities from scratch.
Basic contributes to society through consulting services
that harness the strengths of individuals and enterprises.
Basic Principles and Code of Conduct
● Work out ways to do the impossible.
● Tackle your challenges head-on.
● Notice, think, and act.
About Us
We are a consultancy established in 1998. Our core competencies are to help formulate marketing strategies,
reinforce sales, cultivate human resources, and develop skills.
In keeping with a management philosophy of helping companies and individuals progress and contributing to
society, we maintain proprietary and powerful expertise, methods, and programs. We have leveraged these
tools to serve numerous major Japanese corporations, cultivating human resources through training,
consulting, and projects to steadily enhance the performances of these clients.
We also serve small proprietorships.
Our consulting strengths
1. Proven, practical contents
We offer proprietary management and sales strategies and human resources development programs
based on practical experience.
2. Sales frameworks that lead to sales (framework sales)
We leverage bespoke contents to create overall sales activity frameworks (patterns) and build
mechanisms to dramatically improve sales, consistently enhancing marketing quality and motivation.
3. Clients in all prefectures and a strong track record
We have solidified our track record with each passing year, training more than 110,000 salespeople
for our more than 1,300 corporate clients around Japan. At least 10 clients listed on the First Section
of the Tokyo Stock Exchange have been repeat users of our services for over a decade.
4. Leveraging the Web and Cloud systems to build integration strategies
Our total capabilities range from creating Web strategies and Cloud-based customer management and
other systems to producing catalogs and manuals. We formulate strategies integrating such
management essentials as management marketing, sales, and human resources development.
5. Resolving issues and cultivating mentally robust executives
We use the three consulting steps of situational assessment, cause analysis, and issue resolution to
cultivate mentally robust executives and employees. Our methods can be deployed in such diverse
areas as regular solutions sales and human relationship improvements.
Business Overview

Human resources development and training

Consulting and project management
【Sales Support】
・Sales framework construction projects
・Sales tool and sales talk development projects
・Sales framework systems and systems deployment (Sales force automation and Software as a Service)
・Branding projects
・Projects to cultivate prospective customers
・Management skills enhancement projects
【Management Strategies】
・Business startup projects
・Sales strategy revision projects
・Total consulting
【Human Resources Development and Training】
・Training curriculum development and support projects
・In-house instruction systems creation projects
【Women's advancement initiatives】
・Female salesperson development project
・Work place improvement and motivational enhancement project
・Women's advancement and empowerment project
・Female perspectives-based product planning project

Sales activity-linked Web strategies
Planning and producing websites, Facebook pages, blogs, tweets, and email magazines

Manual, catalog, and guidelines production
Marketing, route sales, and systems operation manuals, and guidelines

Constructing customer databases and developing systems
Building sales support and customer management systems and developing sales force
automation (SFA) and customer relationship management (CRM) systems

Planning and producing presentations
Sales scenarios and presentations for new products and services (including for the iPad
and PowerPoint)

Writing services
Including for papers, newspapers, and websites
Leveraging frameworks to very swiftly launch and develop businesses,
resolve in-house issues, and dramatically improve performance
This is all about creating an exemplary marketing style by building effective selling steps and frameworks
to cover everything from approaches to closings and follow-up.
Much of our work for clients entails building frameworks to ensure solid results from all salespeople and
strengthening marketing while leveraging frameworks to set up internal management mechanisms.

What is framework marketing?
1. We create a framework for your company to formulate unique sales techniques.
↓
2. Based on this framework, you constantly accumulate new knowledge and expertise
↓
3. All employees share this framework, all accumulating and sharing knowledge and expertise
↓
4. Through the process described in 3, communication between all employees becomes more positive and
optimal and focuses on how to make things better
↓
5. Based on the process described in 3, evolve, reinforce, and upgrade the framework described in 1
↓
6. Repeat processes 3 through 5 and evolve the framework by upgrading to keep the framework constantly
robust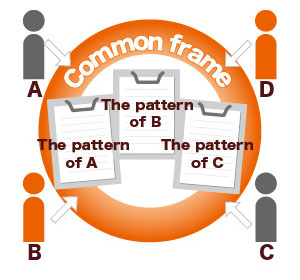 Note: Because most companies do not have such a framework,
sales styles depend completely on personalities. On top of that,
results tend to fluctuate markedly, and organizations do not
amass knowledge and expertise.
When salespeople sell based purely on their personalities,
expertise accrues to them rather than their companies,
and leaves with those people.

Fully automated capture scheme:
An AIS(Attention-Interest-Share) and SAS(Search-Action-Share)
model that links sales activities with effective marketing and PR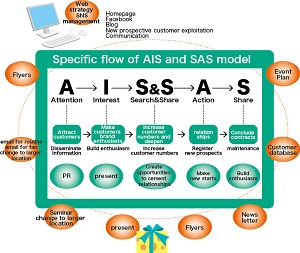 We leverage our proprietary AIS and SAS theories to link all sales
activities, events, exhibitions and other planning, and website,
email, and other online strategies to formulate practical and
effective marketing strategies.